This past weekend the hubby and I stopped by the Crate & Barrel Outlet near our house. We like stopping in and checking out the clearance section. Sometimes it's a hit or miss. But we've found numerous items here in the past, for a steal. It's one of the reasons why we keep coming back to this store. One thing you have to know is that things go quickly. So, if you like something you need to purchase it right then & there. If you don't and you leave to think about it, just know it may not be there when you come back.
Well this past Sunday we spotted the
Tesso Desk
from CB2 in the clearance section. Actually, the hubby spotted it first. We both loved the desk but what we both loved even more was the price. It was marked down 50% off the original price. There was absolutely nothing wrong with it. And they currently still sell this desk in the stores. So, long story short we came home with the desk and a chair to go with it. It's the Pony Side Chair in a microsuede material. The chair was even a great price at 60% off the original price. I just checked the website, and I don't think it's available anymore. Sorry.
Here's the Tesso Desk from the CB2 website.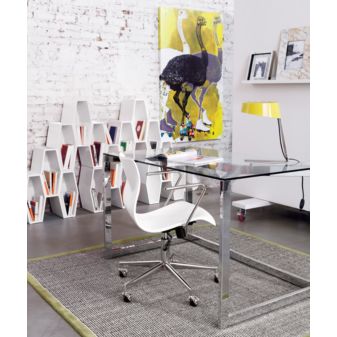 Similar enough look, right? What's even better is it's the same exact desk. Today I was flipping through the current CB2 catalog that came in the other day. I spotted it again styled with a different chair which looked even closer in shape to the one we got. Nice! I got the Look For Less...Literally.